Champion Reciprocating Air Compressors
Simplex Advantage Air Compressor - 5 to 25 HP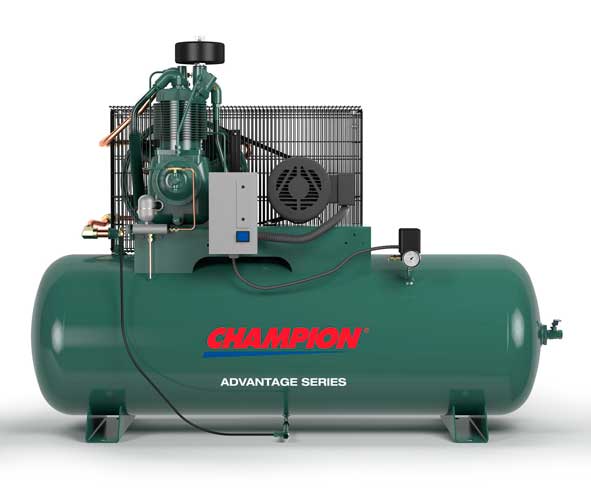 The Champion Advantage Series of Reciprocating Air Compressor units
come mounted with many popular accessories and are factory tested:
(1) Motor starter mounted & wired -----saves on electrical wiring cost
(2) Low oil monitor mounted & wired-----stops motor when oil level is low
(3) Auto tank drain mounted & piped -----removes water from tank automatically
(4) Isolator pads -----protects unit from out-of-level floors & reduces noise
(5) Factory oil fill with ChampLub Compressor Oil ----- for long pump life
(6) Air-cooled aftercooler mounted & piped----- removes 70% of moisture from your compressor
(7) Dual control----Stop / Start or Constant Speed saves money
(Standard on 15hp & 25 hp Champion Air Compressor Advantage units)

FIVE YEAR WARRANTY ON PUMP, TANK and MOTOR. Normally ships within 24 hours of your order.
Available with horizontal or space-saving vertical tanks. Affordable and dependable. Champion compressors are shipped ready to install and operate. Champion reciprocating compressors are ideal for automotive services, industrial facilities, car washes, wood working shops and dry cleaners.