When your business counts on air - you can count on us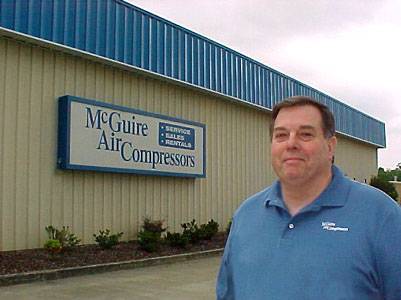 Since 1981, Tommy McGuire has owned and operated McGuire Air Compressors in Graham, NC. He and his Certified Service Technician have worked with compressors from ½ horsepower to over 700 hp. McGuire Air Compressors, Inc. is located in a 10,000 square foot facility in the heart of Piedmont North Carolina and offers a great selection of Champion air compressor equipment. McGuire Air Compressor services the Durham, Raleigh and Chapel Hill area, as well as Greensboro areas. We also service customers in southern Virginia, as well as the North Carolina Triad and Traingle.

McGuire Air Compressors also sells nationally via their websites:
http://www.industrialaircompressors.biz/- Offering Champion Air Compressors
http://www.hosereels.biz/ - Offering Reelcraft Hose Reels for Industry
http://www.airdryers.biz/ - Offering Delteh Refrigerated Air Dryers

McGuire Air Compressors sells and installs compressed air system equipment and parts, Reelcraft Hose Reels and related industrial equipment.

They also offer COMPRESSED AIR EQUIPMENT RENTALS and REPAIR and PARTS.

Click to visit our page with used equipment for sale in NC.
If you are in CENTRAL NORTH CAROLINA or SOUTH CENTRAL VIRGINIA and need SERVICE WORK or COMPRESSED AIR EQUIPMENT RENTALS -
Call McGuire Air Compressors 1-888-229-9999
or email us at compressors@mcguire.biz