Champion Warranty
This WARRANTY is provided by Champion® Air Compressors, a Division of Gardner Denver. Champion® is a registered trademark and trade name of Gardner Denver, Inc.

IndustrialAirCompressors.biz is a division of McGuire Air Compressors, Inc., an Authorized Distributor for Champion® and not the manufacturer of Champion® Air Compressors and therefore is not the provider of this warranty.

The following Warranty information was provided by Champion® for your use and reference as a Champion® customer.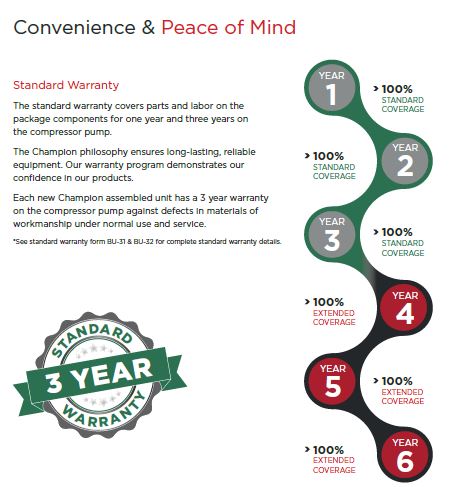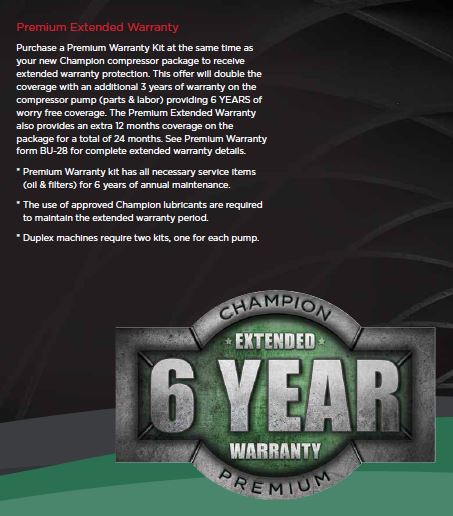 For further Warranty questions call 1-800-682-9868.


GENERAL PROVISIONS AND LIMITATIONS
Champion (the "Company") warrants to each original retail purchaser ("Purchaser") of its new products from the Company or its authorized distributor that such products are, at the time of delivery to the Purchaser, made with good material and workmanship. No warranty is made with respect to:
1. Any product which has been repaired or altered in such a way, in the Company's judgment, as to affect the product adversely.
2. Any product which has, in the Company's judgment been subject to negligence, accident, improper storage, or improper installation or application.
3. 3. Any product which has not been operated or maintained in accordance with the recommendations of the Company.
4. Components or accessories manufactured, warranted and serviced by others.
5. Any reconditioned or prior owned product.

Claims for items described in 4 above should be submitted directly to the manufacturer.

WARRANTY PERIOD
The Company's obligation under this warranty is limited to repairing or, as its option, replacing, during normal business hours at an authorized service facility or the Company, and part which in its judgment proved not to be as warranted within the applicable Warranty Period as follows:



ORDERING ERRORS:
Incorrect orders by a customer do not constitute any warranty claim.
Champion Air Compressors and its authorized distributors shall not take responsibility for the cost of and/or shipping and restocking fees related to orders placed incorrectly by a customer. A 25% restocking fee may be applied to any incorrect order placed by the customer.

Should the Champion Air Compressor factory make any error in shipping incorrect product, IndustrialAirCompressors.biz will make every effort to work with the factory and customer to correct the shipping error and see that the customer receives what was originally ordered.

Should the factory not be able to fill a customer's order, then a full refund shall be given.

Call 1-888-229-9999 should you receive an incorrect order.


DAMAGES IN SHIPPING:
Download the 2018 Updated Freight Damage Policy from Gardner Denver (Champion Manufacturer is Gardner Denver)

Equipment is shipped from the factory in good working condition. It is the responsibility of the customer to inspect all equipment upon arrival and determine if any damage has occured due to incorrect handling during shipping. If shipping damages have occured, the carrier should be contacted immediatly and the cost of damages resolved with the shipping carrier. Champion Air Compressors Factory and IndustrialAirCompressors.Biz are not responsible for damages occuring during shipping by a third party. Please see our SHIPPING page for further details.
E-mail us at compressors@mcguire.biz
For more information about Champion Air Compressors
or to ask any questions before ordering.

Call 1-888-229-9999 and speak to
McGuire Air Compressors, Inc.
An Authorized Distributor for
Champion Air Compressors.